In order to properly write about this week of my life, I need to take us back. Back to the year 2015. But before that, I need to take us back five weeks, to the start of my sabbatical.
GOALS ARE MY WEAPON TO INFLUENCE THE FUTURE
When I left Corporate America in May 2022, one manager told me, in a farewell email, "your super power of breaking down goals and achieving them is beyond impressive." It's funny, the power it can have when someone tells you something about yourself. As I reflect on it now, I am someone that has set goals for myself throughout life, but I didn't particularly consider myself a "goal-oriented person." Yet, when I look at my track record, I have had the tendency to set up and knock out goals for a good 20 years. I really wanted to go to the Carlson School of Management at the University of Minnesota. Got in. When graduating, I had the goal of going into business for myself. Did it. One lofty business idea I had was creating a large-scale event, from scratch — a free university welcome event to kick off the school year, paid for by sponsors. We estimated 5,000 students would attend. 15,000 students showed up, and our profit margin on the event was about 65%. Later in life, I knew I had the personal life goal of starting a family. Made that happen. During the pandemic I set the goal of running a marathon. Completed it. Each year in my career in sales, I had corporate quotas and personal sales goals. Most years, I either met them or smashed them. I know what SMART Goals are and try to use that framework when writing down lists of goals in my journal. But until the note in that last email from my former manager, it hadn't really clicked for me as a label, as a trait of mine.
I had never considered myself among the class of people I admire, the "true" goal-oriented legends you read books about, visionary businesspeople or world class athletes who set lofty goals and stop at nothing until those goals are achieved. I read about people who have had success in their pursuits: the ultra marathoner who ran a marathon in every country in the world, the musician who locked himself in his home studio and didn't come out until the song was fully produced and mastered, the young businessman who turned his tiny magazine into a global media enterprise, the athlete who set their sights on Olympic gold and won it — and I think to myself, "Wow, those people are impressive. They know how to set goals and achieve them, and it's taken them to incredible heights. I'm just a normal person. I'm not like them." And while it's true, I'm not destined for Olympic gold, I now believe I am like them, insofar as I have an ability to set a goal and complete it. This is one of my super powers. How can I be putting this skill to its best use? I guess we will all have to stay tuned as the magic unfolds!
And if that farewell email wasn't enough, it became evident on our recent visit to Costa Rica that this goal-completing ability really is one of my super powers. And with that, we go back seven years, to the year 2015.
ALL GREATNESS STEMS FROM A VISION
Kristyn and I were discussing the topic of children: whether or not to have them, ideal time, ideal age gap between siblings, and so on. We agreed that one idea we both liked was, at some point down the road, to live, with kids, in a different country. It would help them gain a more global perspective on life, and it would be one heck of an adventure for us all. The details were foggy, but the overall mission was clear — at some point, live with our kids in a different country. Over the next year or two, we had our first child, and then, two years later, our second, and we continued the conversation of where and when we might want to live outside of the United States. A Spanish-speaking destination made the most sense, since Kristyn already spoke decent Spanish, so from the get-go we had our kids in Spanish immersion pre-school. Kristyn had visited Costa Rica with her family as a teenager, and she got her second visit to the country with my family on a Christmas vacation in 2015. We had a most excellent time. So, from our positive experiences in the past, we looked to Costa Rica first as a possible destination for our eventual journey abroad. As I clocked hours of online research about the country, I was not turned off by anything I read and, to the contrary, was only lured in more.
So, in 2018, we took a reconnaissance trip to Costa Rica's Guanacaste region, where we visited multiple locations, met with realtors, and toured schools. We rented an AirBnB in a developing area that, from what we could tell on the internet, seemed like it might be a good location for us. But this was our first recon trip. There was no expectation of making any sort of big decisions. The loose idea was that, in the following months, we'd return to Costa Rica, but in a different region, to compare and contrast it with Guanacaste. Or perhaps we would do this recon trip to Guanacaste, realize it wasn't for us, and plan our next info-gathering excursion to Mexico, Honduras, Spain, or elsewhere.
It was our last day of Guanacaste recon, and some other-worldly intuition, some knowing came over Kristyn, like the ocean washing up on the shore. Inevitable. Confident certainty. Which is particularly odd, since she has been, and still is, the less decisive person in our partnership; when we come to life's many little crossroads, like what meals we should make for the week or should we wear the blue or the green to our friend's wedding, I am usually the one to speak up with a quicker decision. But this time, the decisiveness was all Kristyn. She felt a deep sense of clarity. Further recon was futile. This was the place. The time was now.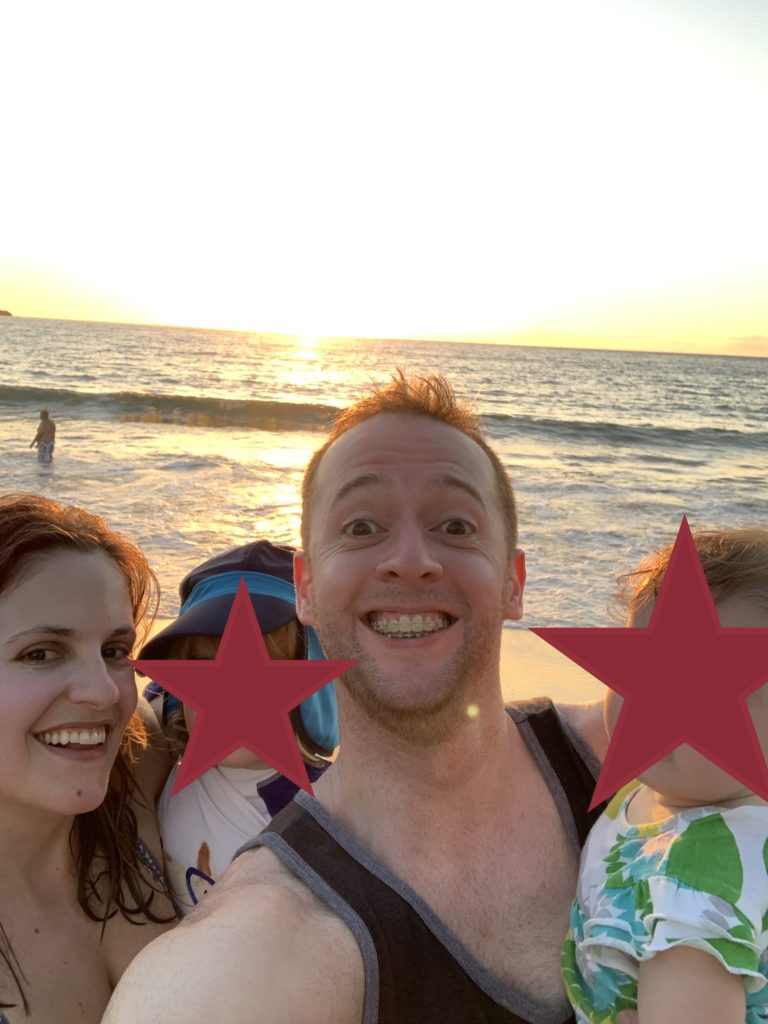 Over the next four years, two of which were COVID-19 pandemic years, we worked toward the details of where exactly we would live. A plan was coming together, but due to pandemic travel restrictions, we could not return to the country, and even once restrictions were lifted, with vaccines not being approved for children under five (which just changed last week), we weren't able to go actually see the location where we hope to live in 2023.
And then, in Week 5 of my sabbatical, we saw it. It was everything.
FORESIGHT 20/20
It hit me on the initial walkthrough of the house, not as much on the interior, but outside, on a covered deck, gazing out at a tiny distant sliver of visible Pacific Ocean, with a lush jungly hillside to my right and a rushing river flowing through the tropical forest behind. I felt an onrush of emotion.
Being a man that's grown up in a patriarchal society, I have a deficiency in emotional intelligence. Feelings are hard. Society did not equip me with the tools, behaviors, and skills to talk about and express my feelings freely. It's one of the areas of life I have the biggest room to grow. And so, even feeling and being aware of and being able to name "an onrush of emotion" is a starting point. But I've practiced some, and in that moment I was able to sit with the emotion, not panic but sit in it enough to allow space. Space for actual tears to form and roll down my cheeks, and space to be able to search the true feeling and name it. And the feeling was… relief. Relief that now the uncertain future is a little more certain. I had less fear of the unknown. This is where we will be living. This is where I will be drinking my daily mug of delicious, Costa Rica-grown coffee. This is the mountainside we'll wake to every day. This is how the neighborhood howler monkeys sound. Up until then, the steps we had been taking to get closer to moving to Costa Rica all felt a bit like an upside-down, pandemic-infused dream, but in that moment, it all transformed from dream into reality.
So it was this feeling of relief from the ambiguity and fear of an unknown future, and also, after that, a feeling for which I didn't have a word. So I sat with that, too. And it dawned on me – I was feeling happy, proud of my past self, proud of my past decisions, satisfied with the judgments and vision of the younger me. And it made me think of this phrase – Foresight 20/20.
You know how they say, "Hindsight is 20/20," meaning that it's easier to have complete knowledge and understanding about an event after it's happened? Well, this feeling felt like our Foresight was 20/20, like the younger version of me was smack in the middle of the bullseye of knowing what future me would want. It was an extraordinarily rewarding sensation to have. I want to cultivate more 20/20 foresight.
Along the way, we've had moments of doubts. Many. "This is crazy." "Are we really doing this?" "Are we robbing our children of some 'better' education or opportunities?" "How will we know if we still want this 4-5 years from now?" Countless questions more. Doubt. Uncertainty. Fear. Wicked cousins of emotion. I believe the ideal way to handle these feelings is not to avoid them but to go toward them. Stare them in the face. Learn from them what you will. And have the courage to push through them and press onward.
And through faith in those around us, a hint of that courage, more than our fair share of privilege, and a bit of luck, we got to see the result of the vision we'd had seven years ago, in living color. It was an affirmation that the old versions of ourselves could see our future. Something deep within us felt right about this spot, this plan, despite all the reasons why it might not work out. It's validating and relieving that our old vision has not only come to fruition, but also feels so perfectly in alignment with the four-year-older version of me. To be happy with your past self is one of life's best feelings, and I now aspire to impress my future self when making decisions. When at a decision crossroad, I ask myself, "Will this make my future self proud? Happy? Satisfied?" My intuition can take it from there.
THOUGHTS FROM A WEEK IN COSTA RICA
A FRESH TAKE ON EDUCATION
We took a tour of the kids' future school. We had already toured this school once on our 2018 recon trip, but now we could take the tour with our school-aged kids so they could see it and understand it for themselves. The school is one of our biggest draws to the area. It's a bilingual school with half of the students being local Tico's and the other half being international students from 30 different countries. Classroom sizes are capped at 20-22. They use project-based learning. The school year operates on trimesters with three different breaks throughout the year, rather than one big long break which can cause a mental "summer slide" in the developing mind of a child.
They put on a weekly "Feria" (market) every Wednesday for local merchants and students to sell their goods. We enjoyed being there to experience the Feria; we even had a First Grader give us his sales pitch for the homemade jewelry he had crafted.
Many nearby parents teach at the school. If you are a parent and aren't a full-time teacher at the school, you are still required to contribute a minimum of 18 hours to the school's activities throughout the year — a requirement I'm happy to abide.
Oh, and the school has gardens. And chickens. Many chickens! The curriculum includes an annual anchor project, which varies by grade. These anchor projects tend to model sustainability and self-sufficiency, and many anchor projects revolve around the chickens. Fifth Graders learn about and manage the compost at the school as their anchor project. The compost is used in the gardens, which is the Seventh Grade anchor project. The Sixth Graders are in charge of maintaining the chicken coops and feeding the chickens, while the First Graders are in charge of egg collection. Other grades work on recycling, water, and so on.
Everything about this school promotes a more communal integration with the community and with the school's natural surroundings. This is what school should be. Everywhere.
WHEN DID SOCIETY AGREE EXTRA CLOTHING WAS A GOOD THING?
When we were in Costa Rica, and we were at a private house, with thick trees all around, not another human in sight, with tropical temps — we were naked. A lot. The kids mostly, but us grown-ups too. We saw how happy the little ones were to be free of their soggy bottoms. We wanted that same happiness. And why not? Because it's not the norm? What's not natural is putting clothes on when it's 90 degrees and you have your own pool. It's sad all the "rules" we think we have to live by. When was the last time the sun kissed your bare bottom? Answer: too long ago.
EMBARRASSING TRAVEL HICCUPS CAN HAVE SILVER LININGS
In our family, I am the planner, especially when it comes to travel. Even though it takes a lot of hours, I enjoy it. I enjoy the tradeoff of doing the work so I can arrange for the travel that I most want. This was a complicated trip, since we not only had international travel with children, but we also had life planning to attend. Meetings to set up. Tours to take. And while 99% of my planning was executed flawlessly, I had one small hiccup. When we finally arrived to the rental car lot (roughly 12 hours and two flights after waking up at 2:30am), I realized I had left my driver's license at home. My license, which always stays in my wallet, had been removed from my wallet. By me. The day before we left. So that I could bring it to the nearby community beach as ID for our annual summer membership. I knew exactly where it was, sitting in a board short pocket in my bedroom hamper. That information was not especially useful at the current juncture. Kristyn was going to have to be our driver.
I dreaded breaking this news to her. I don't think it's most people's idea of a good time to figure out driving in a foreign country. I felt bad to be burdening her with this responsibility. But it turned out to have the best silver lining ever, because there was actually something more stressful than driving around potholes and helmet-less cyclists biking on shoulder-less roads — handling the simultaneous navigation of those roads with spotty 2G cellular data and the management of two tired, hungry, hot, and curious children. Now that was some sweaty work!
Kristyn has already called "dibs" on driving next time.
WRITING REQUIRES PERIODS OF LIVING LIFE
I thought I would be writing nonstop while we were in Costa Rica this week. Writing down notes about the location and school. Journaling until my hand cramped up from all the inspiration I was feeling. Freewriting incessantly from my creative synapses firing. Instead, I barely wrote anything. I lived. I swam. I cooked. I laughed. If you don't spend part of your life just living it, you have nothing to write about.